Archived News from Family Chores
Posted by Patsig on September 11, 2012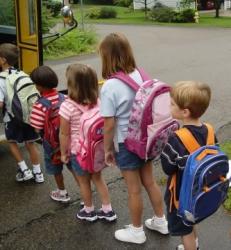 Well it's that time of year again. Summer vacation is over and all the hustle and bustle to organize our families back into routine is here. There's back to school shopping for clothes and school supplies, not to mention getting new teachers and perhaps new schools. It can be overwhelming and crazy, but don't worry we are all in the same boat and eventually everything will get back to normal.

One thing you should all be doing however, is organizing your childs' chores at home, as well as what your scholastic EXPECTATIONS are. They do go hand in hand and getting starting on both at the same time will have it's advantages in the long run.
Whether you decide to get them to add "make your lunch" to their list of chores or modify the existing chores they have already, it will carry a good work ethic from one place to the next.

And remember to stock up on the peanut butter and jam, because I find when they make their own lunches they have a tendency to actually eat them and not bring them home in their back packs.