About the Family Chores System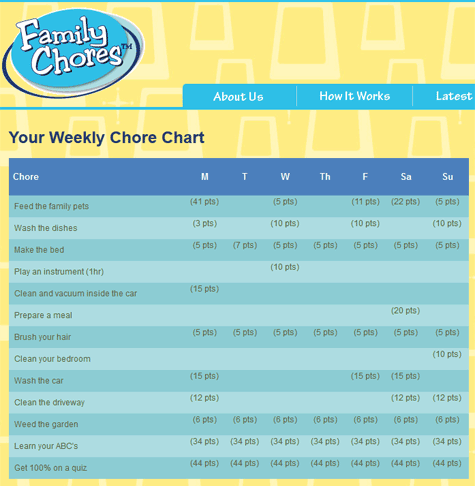 "From the start our children were so inspired they carried their chore charts with them everywhere they went, asking what else they could do and volunteering themselves for extra work. It was an exciting time because it was so easy to get them started and we've never looked back. Now the boys have excellent work habits and understand that being a part of the family includes participating in the daily duties around our home. The kids even told their friends about it and I have had parents come to our home requesting information regarding the program for their kids who wanted to try it. The format is easy to incorporate in any home with any family. We know you will enjoy it in yours!
I started family chores with my children years ago. Our idea was to motivate our children without the nagging and believe me when I say that Family Chores works!
We have two completely different children with different interests and needs. Family Chores works for both of them because it sets goals and targets tailored to their individual interests. They each earn points that can be used to cash in for what they are working towards. For example, our youngest earned points to purchase a bike because he likes outdoor activities, while our oldest redeemed his points for a gaming console.
The reason that we started the program was that my husband and I are both small business owners and have learnt over the years that hard work and a positive attitude will reward you with success on many levels. My husband is the youngest of ten children and grew up in a family that was self reliant and motivated as well. Having the last two children in the line of siblings we were able to witness over the years the changes in the generations. Some children took on an attitude of 'self entitlement' while others worked for their needs and wants.
We wanted our children to have the same work ethic as we had growing up and knew that showing by example only went so far. They needed to experience first-hand the joys of accomplishment and the pride of a job well done. We figured that when rewarded for their efforts it encouraged them to understand the real world and how individuals succeeded at their work. They also tracked their own points and understood what they needed to earn to achieve their personal goals, which developed their math skills as well as their bookkeeping abilities."



Summer and Chores
Well it's that time a year again where we all wonder, how did it go so fast. Most of us are trying to figure out our new schedules and how to implement camp, work, childcare and quite frankly what to make for dinner ...more
Eliminating Arguments and Conflict
By: Michael G. Conner, Psy.D, Published in the Family News, 2002 Parents will often ask me how to eliminate the arguments and conflicts they have with their children ...more
Should kids be paid for good grades
This topic has been thrown around for ages with varying opinions and studies. Some say that it's not a great idea because we teach our kids that it's all about the money and not the benefits of academic achievement itself ...more